Sweep
Sweep is an app dedicated to the US market where anyone can order a cleaner or sweep on demand.
Design

Sketch & Invision On Design Sprints

Technology Used

React Native, Node.js, MongoDB, Firebase

Launch

March 2022

Platforms

iOS, Android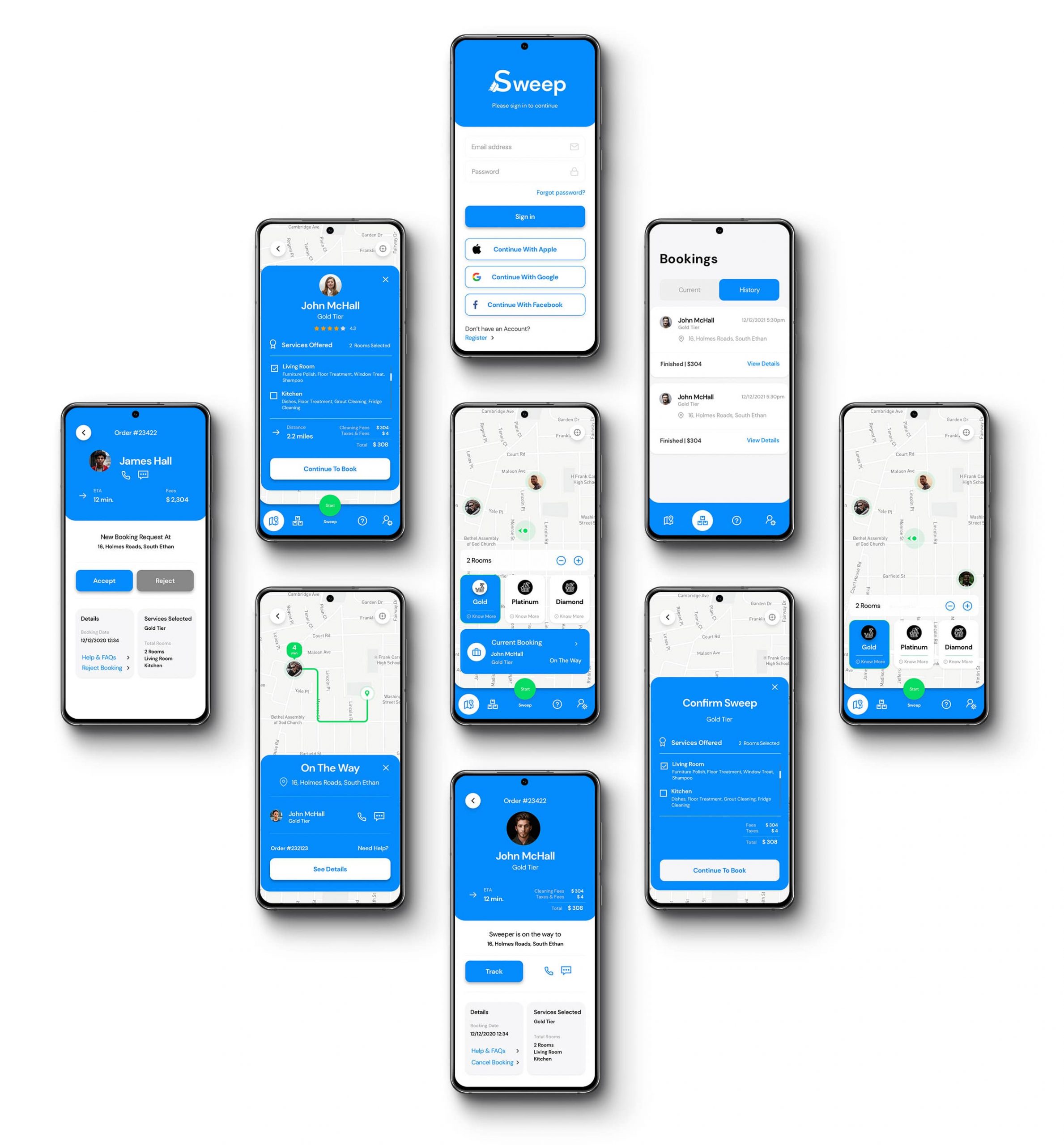 Getting a sweeper
right to the doorstep
in one tap
to clean your entire home
We get it, cleaning is tough. The sweep app can help you to book a sweeper in an instant. The aim to minimize user hurdles for booking and tracking.
In the US market, users prefer apps with seamless flows and interactions. All the data should be populated in real-time.
⬤ 02. Experience
Go ahead, browse through the interactive designs here
A fluid visual user experience with new solutions.
Primary


#008AFC

SCSS var


$color-blue

◯

R 0
G 138
B 252
Green
#00ff88

SCSS var


$color-green

◯

R 0
G 255
B 136
Aà
Instead of utilizing contrast purely for the purpose of mitigating who are excited about unique ideas and help digital companies.
AaBbCcDdEeFfGgHhIiJjKkLlMmNnOoPpQqRrSsTtUuVvWwXxYyZz 0123456789
Platforms
Android, iOS, Web (Admin)
Industry
Services & Utilities
With a team of 7 on the Sweep project, the experts decided to use the following technologies for mobile apps, database, and admin dashboard.
Putting our focus on
changing the way people
think of mobile experience.
Project Manager
Adeen Shukla
Mobile Lead
Harsh Jeena Rathore
Frontend Developers
Neha Thakur, Saikat Sarkar
Backend Lead
Satyam Patel
Backend Developers
Arkaraj, Parinita, Rimpi